Commercial Doors
Value added Service extended to Architects, Consultants, Project Management Consultants, Interior Designers, and Cost Consultants & Clients. Contact Shakti Hormann Project Consultants for assistance in preparing the technical submittals (Door schedule, Hardware Sets, detailed specifications & Architectural drawings) for projects in design /conceptual stage prior to tender.
Fire Doors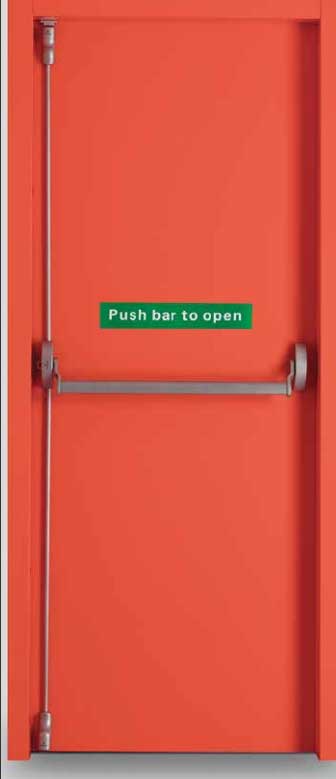 Fire Doors are designed to meet the life safety requirements by primarily compartmentalizing and containing the spread of fire. Our doors are tested and certified to Indian, American and British Standards. Further, these doors complement the existing passive fire-fighting systems already in use in the buildings.
Applications:
Corridor
Staircase Door
Electrical and Low Energy Ducts
Standard Frame Profile:
Size Limitations*: Wall opening (W x H)
Min - 450x1200mm
Max - 1200x3000mm
Fire Rating:
60 Min, 90 Min, 120 Min and 180 Min
Infill: Honeycomb/Mineral wool
Material: Galvanized Steel (GI)
Finishes:
Standard: RAL Colors
Optional: Wood Grain
Rail Stile Doors
Rail & Stile doors offer larger transparency, visual appeal, aesthetics and a high degree of design flexibility. These doors are factory finished for paint and are also available in wood finishes. They find suitable applications for French doors, Balcony doors and Utility doors.
Applications:
Internal / Bedroom
Utility
Frame profile (With provision for seal):
Standard: 125x60mm
With Architrave: 125x60x75mm
Size Limitations: Wall opening (W x H)
Min - 750x2050mm
Max - 1200x2400mm
Infill: Honeycomb
Material: Galvanized Steel (GI)
Shutter Thickness: 46mm