Residential Doors
Entrance Doors
A range of main and side entrance doors are available to suit the style of your home.
Internal Doors
These doors can be used for all the internal applications like bedroom, balconies, kitchen, storeroom and toilets. Durable and ideal for enhancing the interiors of your home.
Safety Doors
Safety Doors are designed to meet the security parameters of entrance doors and are a perfect balance between style and security. Twin combination of a flush door opening inside and a grill door opening outside offer both security and convenience as a package.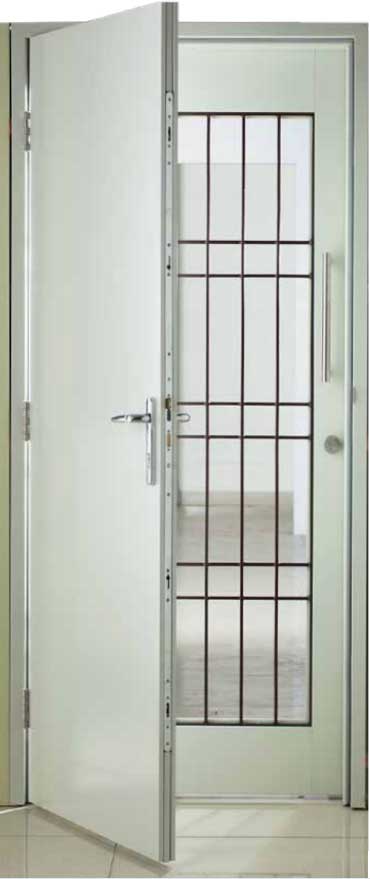 These specially designed safety doors are factory finished, maintenance free, provide safety, long lasting and eco-friendly.
Applications:
Frame profile (With provision for seal):
Combination Frame: 200x60mm
With Architrave: 200x60x75mm
Size Limitations: Wall opening (W x H)
Min - 1000x2050mm
Max - 1200x2400mm
Infill: Honeycomb
Material: Galvanized Steel (GI)
Shutter Thickness: 46mm
Optional:
Rebated threshold
Profile threshold
Finishes:
Standard: RAL Colors
Optional: Wood Grain

Embossed
Made of high definition six panel embossed design which gives the look and feel of a wooden panelled door. Available in factory paint finish and are easy to install at site
Applications:
Entrance
Internal / Bedroom
Utility
Frame profile (With provision for seal):
Standard: 125x60mm
With Architrave: 125x60x75mm
Size Limitations: Wall opening (W x H)
Min - 900x2050mm
Max - 1100x2200mm
Infill: Honeycomb
Material: Galvanized Steel (GI))
Shutter Thickness: 46mm
Optional:
Rebated threshold
Profile threshold